Grass Fed Beef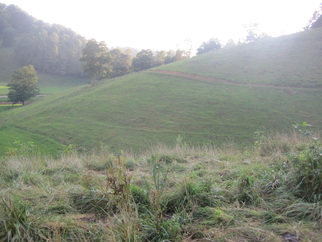 Creeksong Farm has been raising cattle since 2004 and we took our first beef to slaughter in 2008. Since then we have been supplying the High County with delicious, nutritious, grass fed beef. Our beef is available at the Watauga County Farmers' Market, through our CSA, at the farm, and delivered by request to the surrounding area in sufficient quantities.
We have a herd of Angus brood cattle and keep a bull with them for breeding. We raise the calves to the age of 18-24 months in order to achieve the best tenderness and flavor. During this time they are allowed mother's milk, fresh water, all the summer grass they can eat, and hay that we harvest from our farm in the winter. We then take them to
Mays Meats
in Taylorsville, NC where they are slaughtered, aged for fourteen days, processed, and vacuum packed for sale.
---
Cuts and pricing
Ground Beef $6.50 lb ($5.50 lb on 10 lbs or more)
Cube Steak $7.50 lb
Beef Stew $7.50 lb
Sirloin Tips $9.00 lb
Sirloin Steak $12.00 lb
NY Strip Steak $14.00 lb
Ribeye Steak $17.00 lb
Filet Mignon $24.00 lb
Liver $3.00 lb
Soup Bones $3.00 lb
Ox Tail $3.00 lb
Heart $3.00 lb
Kidney $3.00 lb
Tongue $3.00 lb
Short Ribs $5.00 lb